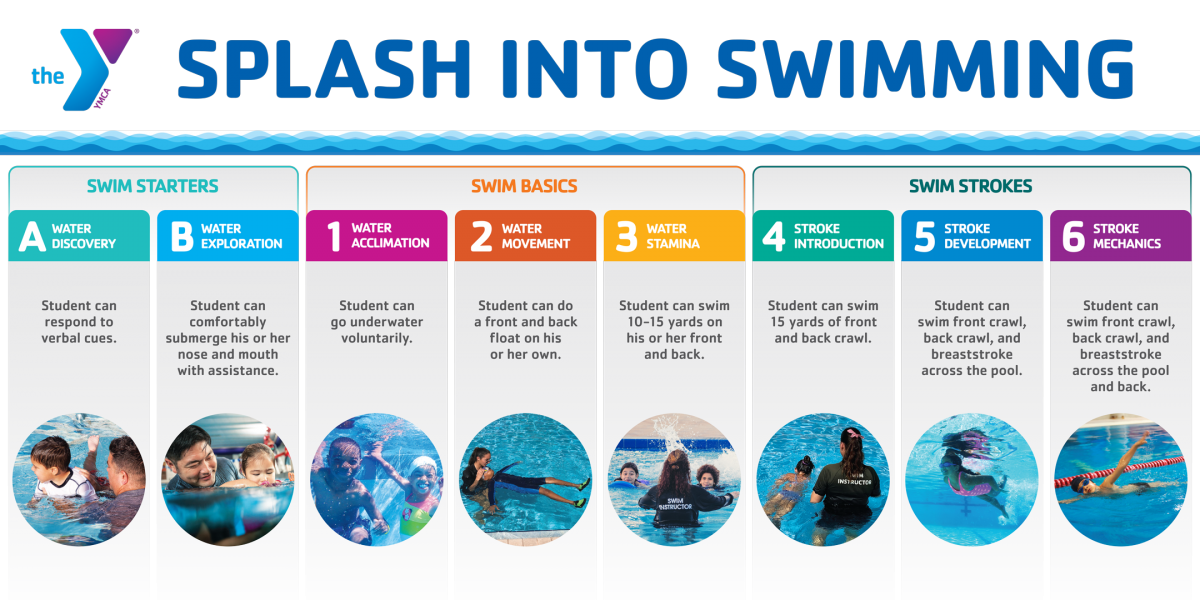 NO SWIM LESSONS DECEMBER 23-JANUARY 1. Classes resume January 2.
For over 100 years, the YMCA has been one of America's favorite swim instructors and a leader in water safety. Our proven curriculum and friendly environment enhance skills, all while having fun. At the Y, swimming is a life skill. We offer a wide selection of parent & child, preschool, school-age, teen, and adult swim lessons that build strong and confident swimmers. All age groups are taught the same skills but divided according to their developmental milestones.
Are you registering for swim lessons but unsure what level to place your child in?
All NEW students must be evaluated before signing up for Swim Lessons. No evaluations/trial classes are needed for Level A, Level B & Level 1 which are for beginners.
EVALUATIONS/TRIAL CLASS: Please sign up online or at the Welcome Center for an evaluation/trial class. There is a $10 fee, but the fee will be applied to the swimmers first month of swim lessons if they enroll the same day as the evaluation. If you have questions, please email Samantha at aquaticinfo@wmaymca.org or call (973) 366-1120 ext. 5046.
Swim lessons are being held Mondays, Tuesdays and Thursdays and Friday evenings and Saturday mornings.
All group lessons are 30 minutes long except for Swim Fit which is 45 minutes.

The class ratio is 3:1 for Group lessons. If a class exceeds 3 swimmers, another instructor will be assigned to the class. If the class exceeds 6 swimmers, another instructor will be assigned to the class. We keep a 3:1 ratio at all times. Our Swim Fit group is 1:15. If the class you are looking for is full or closed, please reach out to Samantha for assistance. In many cases, we are able to accommodate your needs
SEMI PRIVATE & PRIVATE SWIM LESSONS
Our Semi-Private and Private lessons are tailored to fit the individual needs of the participants.
Ratios: Private is 1:1 and Semi-Private is 2:1
Semi lessons and Private lessons can be held in both the Warm Water Pool and the Main Pool, whichever is more appropriate for the individual's skill level and based on pool availability.
SEMI PRIVATES and PRIVATE SWIM LESSONS are catered to your schedule as well as our pool space and instructor availability.
STEP #1- To schedule lessons, please contact Samantha at aquaticinfo@wmaymca.org first to book your time.
STEP #2- After confirmation of your time from Samantha, you will be able to purchase a package of 1, 5 or 10 online or at the Welcome Center.
Cancellation Policy: If you are unable to attend a lesson, the lesson can be moved to another day if we are informed 2 hours prior to the scheduled time. Due to staffing the lesson, if you do not cancel with two hours notice the credit will be removed from your account to pay the staff.
SEMI PRIVATES: If one child attends and the other doesn't we will still run the lesson. However, the child who cancels within the policy will be able to a makeup in a group lesson class. If both kids cancel within the 2 hours, the credits will return to their account.
PLEASE be sure to download our App-YMCA UNIVERSAL. This is our primary form of communication when it comes to canceling due to snowstorms, pool closures and thunderstorms.
PLEASE READ OUR SWIM LESSON POLICY FOR MOST UP TO DATE INFORMATIN AND POLICIES.
QUESTIONS ABOUT SWIM LESSONS? Contact Samantha at aquaticinfo@wmaymca.org or Ext. 5046.
We do not offer credits or refunds to accounts for weather closing (snow/thunderstorms) and facility closings. The cancelled lesson will be available as a make-up lesson. Please see our make-up lesson policy. Any current credits issued to your account will expire 1 year after the issued date.
Swim Lesson Schedule for September 2023-August 2024
| | | | | | |
| --- | --- | --- | --- | --- | --- |
| LEVEL | Monday | Tuesday | Thursday | Friday | Saturday |
| A | --- | 4:00 pm | 4:35 pm | --- | 9:00 am, 10:10 am, 11:20 am |
| B | --- | 4:35 pm | 5:10 pm | --- | 9:35 am, 10:45 am, 11:55 am |
| 1A | 4:00 pm, 5:10 pm, 5:45 pm | 4:00 pm, 5:10 pm | 4:00 pm, 5:10 pm | 4:00 pm, 5:10 pm | 9:00am, 10:10am, 11:20am |
| 1B | 4:35 pm, 6:20 pm | 4:35 pm, 5:45 pm | 4:35 pm, 5:45 pm, 6:20 pm | 4:35 pm, 5:45 pm | 9:35 am, 10:45am, 11:55 am |
| 2A | 4:00 pm | 4:00 pm, 5:10 pm | 4:00 pm, 5:10 pm | 4:00 pm | 9:00 am, 10:10 am, 11:20 am |
| 2B | 4:35 pm, 5:10 pm, 6:20 pm | 4:35 pm | 4:35 pm, 6:20 pm | 4:35 pm, 5:10 pm | 9:35 am, 10:45 am |
| 2C | 5:45 pm | 5:45 pm | 5:45 pm | 5:45 pm | 11:55am |
| 3A | 4:00 pm | 4:00 pm | 4:00 pm | 4:00 pm | 9:00 am |
| 3B | 4:35 pm, 5:10 pm, 6:20 pm | 4:35 pm, 5:10 pm | 4:35 pm, 5:10 pm, 6:20 pm | 4:35 pm, 5:10 pm | 9:35 am, 10:10 am, 10:45 am, 11:20 am |
| 3C | 5:45 pm | 5:45 pm | 5:45 pm | 5:45 pm | 11:55 am |
| 4 | 4:00 pm | 4:00 pm, 4:30 pm, 5:00 pm, 5:10 pm | 4:00 pm, 4:30 pm, 5:00 pm | 5:10 pm | 9:00 am, 9:30 am, 10:00 am, 11:55 am |
| 5 | 4:35 pm | 4:00 pm, 4:30 pm, 5:00 pm, 5:45 pm | 4:00 pm, 4:35 pm, 5:00 pm | 4:35 pm, 5:45 pm | 9:00 am, 9:30 am, 10:00 am, 11:55 am |
| 6 | 5:45 pm | 4:00 pm, 4:30 pm, 5:00 pm | 4:00 pm, 4:30 pm, 5:00 pm, 5:45 pm | 5:45 pm | 9:00 am, 9:30 am, 10:00 am, 11:20 am |
| Swim Fit | --- | 4:00 pm, 4:45 pm | 4:00 pm, 4:45 pm | --- | 9:00 am, 9:45 am |
| Adult Beginner | --- | 6:20 pm | 6:50 pm | 10:00 am, 10:30 am | 7:30 am, 8:00 am, 8:30 am |
| Adult Intermediate | 6:20 pm | --- | --- | 11:00 am | 12:25 pm |
Adult Intermediate/Advanced
Level B Water Exploration
Level 1 Water Acclimation
Level 4 Stroke Introduction
Level 5 Stroke Development